Friday, May 4, 2007
I've seen some photos of finished Dongs from Bezzie and Poops! Keep 'em cummin, er, comin'!
I thought this might inspire some creativity among you Dongalongers -
Your Penis Name Is...
Squirmin' Herman the One-Eyed German
Posted by

Mom on a Mission
at 4:08 PM
1 comment:

Monday, April 30, 2007
I saw
this pattern
on one of my favorite craft sites,
The Anticraft
.
And I wanted one. But, alas, I don't crochet.
So I asked my extremely creative
Knittyboard
friends if someone would make me one. And the idea took on a life of its own.
People offered to send me Beanises with FunFur pubes. Beanises with realistically misshapen balls. Beaded Beanises with genital warts. Self-striping Beanises. It looked as though I was going to receive a truckload of Beanises. Now, not to sound cocky, I'm a pretty fun gal. But I had no idea what I was going to do with so darn many Beanises.
I thought about it a long, looong while, and I concluded that maybe it would be nice to do something good with all these Beanises. Because otherwise, how am I going to explain them to my kids?
So I'll stop beating about the bush. Here's what I'm gonna do. I'm hosting a Dong-A-long which will benefit
The Prostate Cancer Research Institute.
It seems Breast Cancer gets a lot of attention, and rightly so. Obviously I'm not saying it shouldn't. But ladies, we should also remember the guys. They're our husbands, boyfriends, brothers, dads, and friends. Apart from skin cancer, prostate cancer is the most common cancer among men. ALL men are at risk for prostate cancer.
The American Cancer Society estimates that there will be about 218,890 new cases of prostate cancer in the United States in 2007. About 27,050 men will die of this disease. Prostate cancer is the second leading cause of cancer death in men. Lung cancer is the first. While 1 man in 6 will get prostate cancer during his lifetime, only 1 man in 34 will die of this disease. The death rate for prostate cancer is going down, and thanks in part to the efforts of research teams, the disease is being found earlier as well.
I don't want to in any way make light of a serious topic, but it seemed a logical fit - crocheted penises/accessories for Prostate Cancer Research. And so began the Dong-A-Long.
Anyone who would like to participate may contribute a finished Beanis which will then be auctioned off. The proceeds from the sale will then be donated to this charity.
Can't crochet? Me neither. I hope you knitters will consider making something to donate to the cause. May I suggest whipping out either a
Weenie Warmer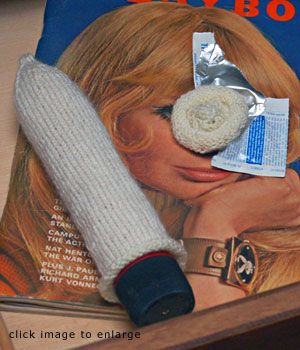 or a
Banana Hammock
instead?
Or get creative!
Can't knit either? Then I hope you'll buy a one-of-a-kind Beanis and use it to remind the man in your life to get himself tested. Leave it on his pillow, in the refrigerator, in his briefcase if you have to.
Or if you don't have a man in your life, then you can use it however you want.
I won't judge. ; )
Posted by

Mom on a Mission
at 9:24 AM
4 comments: